Red, White and Blue Day Jubilee Celebrations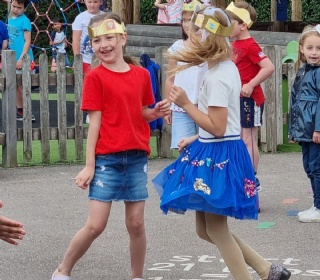 As part of our Platinum Jubilee celebrations pupils dressed up in red, white and blue, enjoyed jubilee themed activities and celebrated with a special street party at lunchtime!
During the day, the children went around the school partaking in different activities of their choice. The children decorated cupcakes, made the Union flag, designed their own crowns, created their own tree decoration and made a very, very long paper chain and in the afternoon, the children had a great time country dancing.
As a memory of this special day, we planted an apple tree to commemorate this historic event.
It was such a lovely day for everyone!